Later's Instagram Analytics let you monitor trends in your Instagram's overall performance, measure weekly and monthly growth, and discover which of your posts are driving the most engagement. Plus, if you've designed a shoppable Instagram feed with Linkin.bio, you can track the total number of visits and clicks to your website from Instagram!
Basic Instagram Analytics on Later:
Free plans get access to a Basic Analytics Dashboard with an overview of their last 10 posts in the last 30 days. Performance reports include:
total number of likes per post
total number of comments per post 
a highlight of your top posts 
the average number of likes and comments you receive per post
Pro Instagram Analytics on Later
Paid plans get access to a Pro Analytics Dashboard with insights into:
Analytics for the past 3 months of content 
Monthly and weekly follower growth trends
Audience engagement trends
Post performance trends (activity and growth over a 14-day period)
Monthly visits and clicks to Linkin.bio page
Plus, a weekly analytics weekly analytics email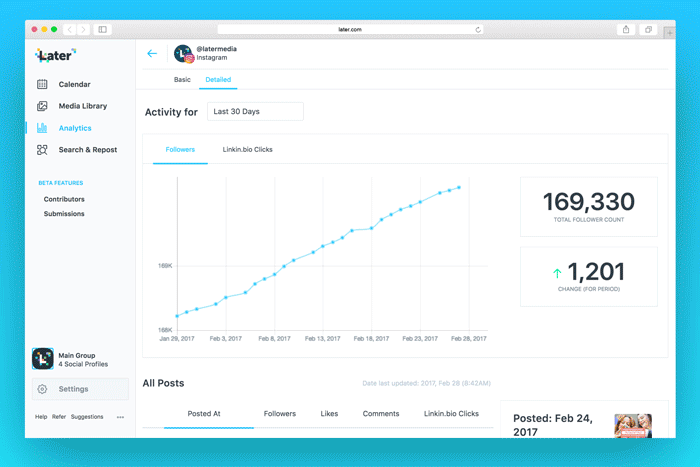 Access Your Analytics Dashboard:
From the left side menu go your Analytics page. You can switch which social profile's analytics you are viewing at the top of the page:

Monitor, Analyze & Optimize
Follower Growth: 
Tracking your follower growth will help give you get an idea of where your Instagram efforts are best served for driving growth and engagement on your Instagram account.  
At the top of your Analytics Dashboard choose the date range you wish to view your analytics for -- the follower growth chart will reflect the total number of followers you gained or lost in the time period you have chosen.
Tip: Analyze the different spikes and drops in your follower growth and compare it to the content you posted on those days. This is a great way to find out what content resonates the most with your followers. Maybe the new branded hashtags you used helped you gain more valuable followers from a niche community, or maybe you kicked off a UGC campaign which helped you reach a wider audience.
Audience Engagement Rates:
At the bottom of the page, a table outlines the engagement rates for each of your Instagram posts that were posted with Later. This includes:
Total number of followers at the time of posting
Total number of likes per post
Total number of comments per post
Total clicks your post received on your Linkin.bio page
Note: For top post of the day/week, check out your weekly analytics email.
From here, you can view all of your posts together to see which ones drove the most engagement
Engagement Rates Over Time:
Take a closer look at each post's engagement rate over time (14-day period) to see how your posts perform hours, days, and even weeks after posting! 
Simply click on a post to pull up a time-series engagement chart for your Likes, Comments & Linkin.bio post clicks 
Tip: Use these insights to identify your best time to post, and then schedule your future posts accordingly. Remember, you can create your own Instagram queue with your best time to post using Later's Quick Schedule feature!
Linkin.bio Tracking:
With a Linkin.bio page helping you drive more sales and traffic from your Instagram account to your product pages, it's important to monitor the clicks and visits your Linkin.bio page generates over time. That way you can see if your audience is engaging with your posts and interested in learning more about the products and content you host on your feed.
Page Visits
Find the total number of visits, clicks, and average click per post at to the top of your Analytics Dashboard. 
Choose a date range at the top and go to the Linkin.bio tab on the follower growth chart.
Clicks Per Post
Track the total number clicks each of your posts get on your Linkin.bio page.  Scroll to the bottom of the page to find a table with the total number of clicks per post from your Linkin.bio page.
If you want to see the engagement rates your post received over the last 14 days select the post and review the engagement chart on the right hand side.